最新中稿插图
以 图 像 诠 释 思 想 · 用 技 术 创 作 艺 术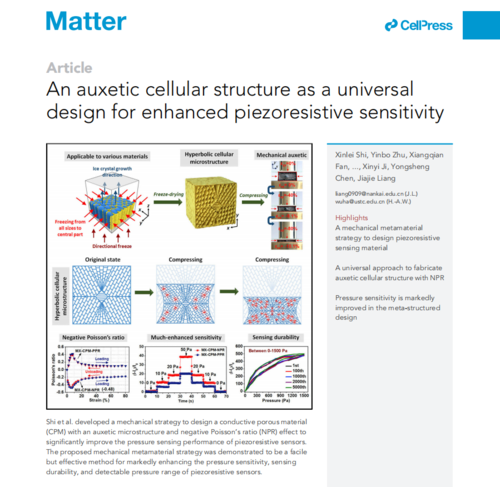 标题:
An auxetic cellular structure as a universal design for enhanced piezoresistive sensitivity
Highlights
• A mechanical metamaterial strategy to design piezoresistive sensing material
• A universal approach to fabricate auxetic cellular structure with NPR
• Pressure sensitivity is markedly improved in the meta-structured design
论文链接

https://doi.org/10.1016/j.matt.2022.02.022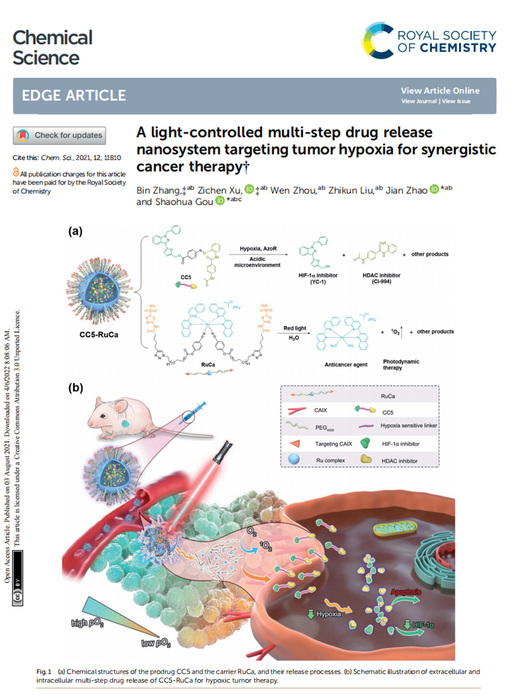 标题:
A light-controlled multi-step drug release nanosystem targeting tumor hypoxia for synergistic cancer therapy
摘要:
Hypoxia is a major obstacle for cancer therapy due to its association with cell proliferation, tumor distant metastasis, and treatment resistance. In this study, a hypoxia-activated bifunctional prodrug (CC5) was designed, synthesized and encapsulated by a photo-responsive ruthenium complex-derived polymer to yield a light-controlled multi-step drug release system (CC5-RuCa) for synergistic therapy against tumor hypoxia. Under NIR irradiation, CC5-RuCa not only generated ROS to kill the cancer cells in the exterior of the tumor but also released the prodrug CC5 with enhanced intratumoral penetration in the severe hypoxia region inside the tumor tissue. In vivo studies on MDA-MB-231 xenograft models revealed that CC5-RuCa with preferential accumulation in the tumor exhibited highly efficient tumor regression through the synergistic effect of photodynamic therapy and hypoxia-activated chemotherapy.
论文链接

https://doi.org/10.1039/D1SC01888D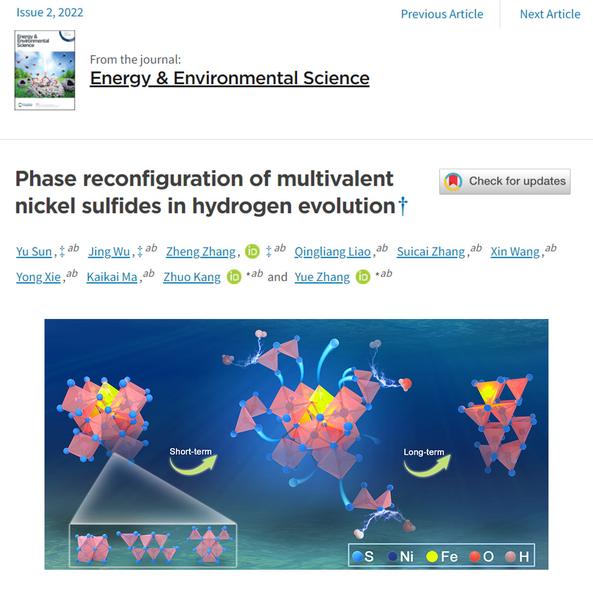 标题:
Phase reconfiguration of multivalent nickel sulfides in hydrogen evolution
Deciphering the dynamic evolution of catalysts' atomic and electronic structure in operating conditions is pivotal for unraveling the activity origin and improving catalyst design. Earth-abundant transition metal catalysts have shown efficient catalytic efficiency and are attractive due to sustainable and economic considerations. However, the dynamic evolution process during their whole service time remains elusive, which is greatly complicated by the multiple component and valence states as well as the structural complexity of materials. Here in this work, we investigated the atomic-scale evolution of multivalent nickel-based sulfides (from NiS2 to α-NiS, β-NiS and Ni3S4) as model catalysts for hydrogen evolution reaction (HER), via operando Raman and X-ray absorption spectroscopies corroborated by theoretical calculations. Dynamic reconstruction propagating from surface to bulk, mediated by sulphur vacancy, has been demonstrated for these materials, all with the terminated Ni3S2 phase on catalyst surface being responsible for subsequent catalysis. Partial Fe substitution prompts such reconfiguration process and hence improves HER performance, which establishes the dynamic working mechanism of widely-adopted doping strategy.
We unprecedentedly reveal the dynamic reconstruction with lower valence state tendency of transition metals in the catalytically terminated phase during HER, and the life-time dynamic correlation between structure and activity, providing insights into future catalyst design.
论文链接

https://doi.org/10.21203/rs.3.rs-167398/v1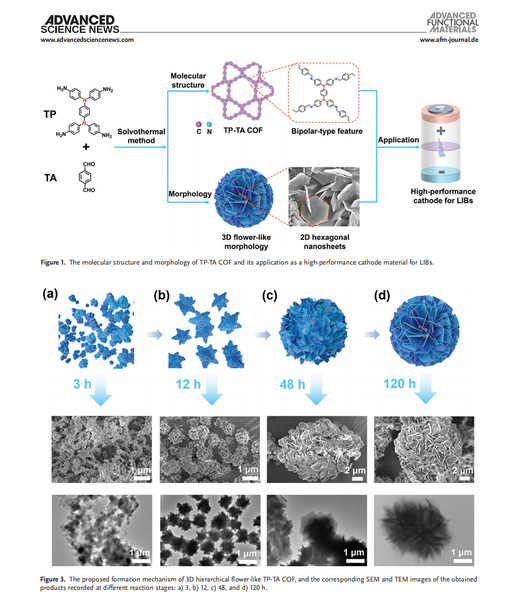 标题:
Chemical Design for Both Molecular and Morphology Optimization toward High-Performance Lithium-Ion Batteries Cathode Material Based on Covalent Organic Framework
In most cases, to obtain high-performance electrode materials for lithium-ion batteries (LIBs), it is necessary to optimize both their molecular structure and morphology. Normally, the molecular structure of covalent organic frameworks (COFs) can be well engineered by chemical design, while their morphology is mainly optimized by post-processing.
Herein, by introducing a flexible building unit containing sp3 N redox-active centers, a bipolar-type TP-TA COF assembled by uniform 2D hexagonal nanosheets is synthesized in a one-step reaction without any post-processing,
achieving the highly challenging simultaneous optimization of both molecular structure and morphology required for high-performance
electrode materials. Thus, when used as cathode material for LIBs, its combined optimized chemical structure and favorable morphology of TP-TA COF synergistically render a high capacity (207 mA h g−1 at 200 mA g−1), excellent rate performance (129 mA h g−1 at 5.0 A g−1), and cycling stability (93% capacity retention after 1500 cycles at 5.0 A g−1).
论文链接

https://doi.org/10.1002/adfm.202107703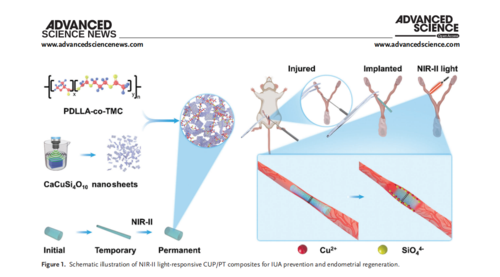 标题:
Bioactive NIR-II Light-Responsive Shape Memory Composite Based on Cuprorivaite Nanosheets for Endometrial Regeneration
Intrauterine adhesions (IUAs) caused by mechanical damage or infection increase the risk of infertility in women. Although numerous physical barriers such as balloon or hydrogel are developed for the prevention of IUAs, the therapeutic efficacy is barely satisfactory due to limited endometrial healing, which may lead to recurrence. Herein, a second near-infrared (NIR-II) light-responsive shape memory composite based on the combination of cuprorivaite (CaCuSi4O10) nanosheets (CUP NSs) as photothermal conversion agents and polymer poly(d,l-lactide-co-trimethylene carbonate) (PT) as shape memory building blocks is developed. The as-prepared CUP/PT composite possesses excellent shape memory performance under NIR-II light,
and the improved operational feasibility as an antiadhesion barrier for the treatment of IUAs. Moreover, the released ions (Cu, Si) can stimulate the endometrial regeneration due to the angiogenic bioactivity. This study provides a new strategy to prevent IUA and restore the injured endometrium relied on shape memory composite with enhanced tissues reconstruction ability.
论文链接

https://doi.org/10.1002/advs.202102220
标题:
A general strategy for overcoming the trade-off between ultrasmall size and high loading of MOF-derived metal nanoparticles by millisecond pyrolysis
Highlights
• A general strategy for achieving both ultrasmall size and high loading in heterogeneous metallic catalysts is proposed.
• Sub-3 nm Co nanoparticles with a high Co loading up to 41 wt% was synthesized by millisecond pyrolysis of MOF.
• The nucleation and growth of MOF-derived metal nanoparticles in high-temperature pulse fit with the LaMer model.
• The as-prepared catalyst showed high activity and robust stability during prolonged electrocatalytic reactions.
论文链接

https://doi.org/10.1039/D1SC01888D